Orders and information
+420 591 008 310
+420 603 845 020
+421 382 251 001
objednavky@sapro.cz
Monday - Friday
8:00 - 15:30
Modul CAM IRDETO SMIT HD Skylink Ready
Your price exc. VAT
26.78 EUR
Your price inc. VAT
32.40 EUR
Warranty enduser
24 Month
Modul IRDETO SMIT HD

Licencovaný modul Irdeto od výrobce SMIT. Zaručuje velmi dobrou spolupráci s HD přijímači s kartami Skylink i CSlink.
dekódovací CA modul Irdeto PI-sys
je určený pro používání v iDTV (televizorech s DVB-S tunerem) a STB (set-top box – satelitní přijímače a DVD a Blue-ray rekordéry s DVB-S tunerem) přístrojích, které mají CI rozhraní a podporují CI a CI+ protokoly
Systém: Irdeto (licence Irdeto Acces B.V.)
Platforma: SkyLink
Verze SW: IRD-SCL3SECPLUSGRC-4.2.4.4
HW Version: 4.0.3
CAM Build Date: Aug 16 2010
Manufactur code: 90
Loader Version: 3.5
Loadert Variant: 43
CI Plus Info:
Devicetype name: CAM-160
CI+ software version: V1.0
CI+ hardware identification: 4000
MPEG-2/MPEG-4 Compatible with the RoHS Directive 2002/95/EC and its subsequent amendments Descrambling & Filtering
Hardware DES/AES and Hash algoritmus
Secure Boot for Flash content integrity verification and signature validation
Secure Loader for software upgrade, with encryption protection and signature validation
JTAG interface protection
Support OTA software upgrade
Secure PCB design, with BGA package chipset used Software Upgrade
Pracovní prostředí : pracovní teplota: +5°C až +50°C, maximální teplota pro stabilni fungovani je +50 ° C
Find better price on net?
Send info about this product to friend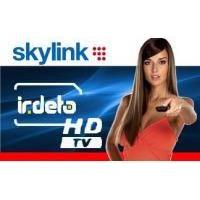 Karta SKYLINK Standard HD IRDETO spolupracuje pouze s přijímači vybavenými čtečkou Irdeto !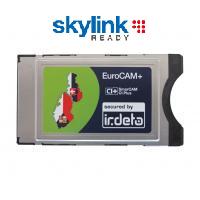 Certifikovaný dekódovací modul v systému Irdeto vhodný pro nové karty ICE a Irdeto.