Orders and information
+420 591 008 310
+420 603 845 020
+421 382 251 001
objednavky@sapro.cz
Monday - Friday
8:00 - 15:30
GOLDEN MEDIA MANIA 818, DVB-T2 Full HD HEVC H.265, YouTube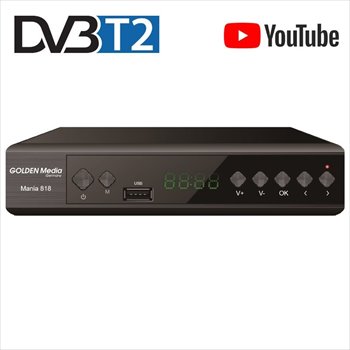 1. BLOW Baterie Super Heavy Duty AAA R03P 2ks...
hook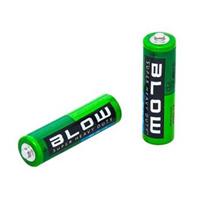 BLOW Baterie Super Heavy Duty AAA R03P 2ks. Použití: Digitální fotoaparáty, přenosný CD přehrávač, holicí strojek, dálkové ovládání, hračky, nářadí, kalkulačky, hodiny, měřicí přístroje, atd.
Your price exc. VAT
18.30 EUR
Recycle fee
0.30 EUR , VAT:  21%  (Satelitní, DVB, kabelové a televizní přijímače, se)
Your price  with RF*
18.60 EUR
Your price inc. VAT
22.51 EUR
Warranty enduser
24 Month
GOLDEN MEDIA MANIA 818, DVB-T2 Full HD HEVC H.265, YouTube
Set top box DVB-T2 České i Slovenské OSD MENU , České EPG, TXT
Otestováno v provozu v ČR s novým DVB-T2 kodekem
Přístroj podporuje YOUTUBE *

Specifikace
DVB-T2 H.265 HEVC
CPU: MSD7T10
RAM: 512 MB
Spotřeba max. 6W. Ve standby max. 1W
Full HD 1080p
Displej 4 číslice
Tlačítka pro ovládání umístěná na předním panelu
7 dní EPG (v závislosti na kanálu)
Rychlé vyhledávání kanálů
Rodičovský zámek
Vícejazyčné OSD
Teletext, Podpora titulků
Youtube, nutno připojit k internetu -LAN

Vstupy a výstupy
Výstup HDMI a Scart
Výstup Dolby Digital SPDIF (koaxiální)
Port Ethernet RJ 45
1 x USB pro multimediální přehrávač: DIVX, AVI, MKV, MP3, MP4, JPEG apod.

Balení obsahuje
Přijímač
Dálkové ovládání
Návod

* Zařízení může využívat služby třetích stran ,placené nebo bezplatné služby , za funkčnost a stabilitu neneseme odpovědnost .
* Zařízení přehrává obvyklé multimediální , video audio soubory za kompatibilitu s nestandardními formáty, kodeky , kontejnery neneseme zodpovědnost.


Find better price on net?
Send info about this product to friend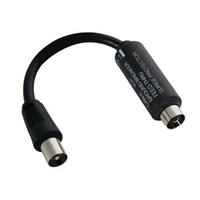 Filtr se stejnosměrným oddělením také jako izolátor separátor, oddělovač potencionálů, oddělovač země. Používá se při rušení, které vzniká rozdílem potenciálu na anténním vstupu. Vhodný pro set top boxy DVB-T/T2.
Max quantity:
Advantegeous price 
2.83 EUR